Highlighting (or also called strobing) is all about getting the perfect glow, so you'll need to replenish dull, dry skin with a good moisturiser first. Extra highlighting will give you a dewy, shimmery, more youthful glow. But because "dewy" can turn into "sweaty" super-quick, only use the highlighter in spots that catch light.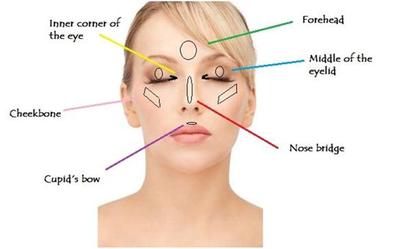 Under the brow bone
: Apply highlighter just under your brow bone, but above the crease in your eyelid, to give the illusion of larger eyes.
Bridge of the nose
: This works especially well if you're working to contour your nose a bit. Apply highlighter along the bridge of your nose and gently blend foundation a shade or two darker than your natural skin tone on the sides to make your nose appear to be slimmer.
Inner corner of the eye
: The oldest trick in the book for looking awake when you're working on three hours of sleep? Add just a pinch of highlighter to the inner corner of your eyes to brighten up an otherwise dark areas.
Diagonal along the cheekbone
: For a bit of definition in your cheekbones, apply highlighter in a diagonal line from just beneath the center of your eye socket up towards your hairline, and blend.
Cupid's Bow
: Give your lipstick a really clean look by applying highlighter on your cupid's bow using a concealer brush.
Center of your eyelid
: Just a touch of highlighter in the center of your eyelid will simultaneously make your eyes look bigger and more awake. Win-win!
Mix it with your moisturizer
: Mix a liquid highlighter with your moisturizer for an all over glow across your entire face.